https://www.youtube.com/shorts/4KTfsl9iJC4
Wednesday May 4, 7-8 p.m.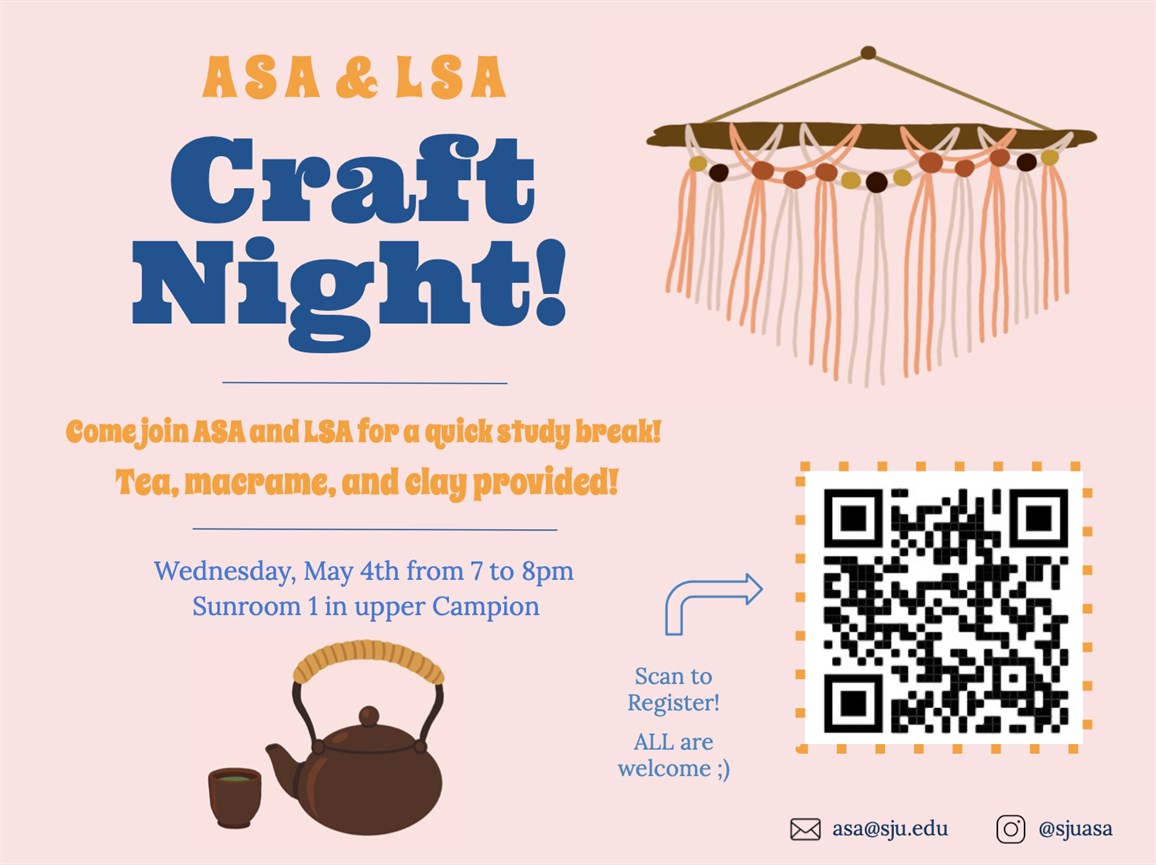 "Come join ASA and LSA for a quick study break" on Wednesday May 4 from 7-8pm in Sunroom 1 in upper Campion Hall. If you're looking for a fun, relaxing craft night with the Latinx Student Association and the Asian Student Association, then this is the event for you! This is a great way to take a step back from all the stress that may be coming up with finals. In order to attend, you will need to register in advance, using the QR code in the image above. Bring your friends and enjoy some tea, making macrames and using clay.
Thursday May 5, at 1 p.m.
Thursday, is the Men's Lacrosse Northeast Conference (NEC) Semifinal game! The game will be played against Long Island University, at 1:00 p.m. on Sweeney Field! The Hawks are currently 12-3 overall, and 7-0 in conference play, and in first place of the conference! Long Island University is a good team with an overall record of 7-7, and 4-3 in conference play, and the Hawks will need as many fans as they can supporting them to help them move on! If the Hawks win on Thursday, they will play again on Saturday, May 7 at 1 p.m. in the Championship game! The other semifinal game is between Bryant University and Hobart College at 4 p.m.
Thursday May 5, 7:30 p.m.
On Thursday May 5 at 7:30 p.m., in the Forum Theatre, in upper Campion, there will be a Student Film Screening! The Department of Music, Theatre, and Film, will be showcasing a screening of some of the student's hard work throughout the year!
Friday May 6, 3 p.m.
St. Joe's baseball will be playing at Smithson Field, on Friday May 6, against Saint Louis University. First pitch is at 3:00 p.m. with some very strong pitching from the starter, Ian McCole, on the mound! The Hawks' record is currently 23-16 overall, and 8-5 in conference play. There is no doubt this will be a great game! Saint Louis is a very strong team with an overall record of 22-17, and a conference record of 9-4! The Hawks will be playing the Billikens May 7, and 8, as well, in case you can't make Thursday's game. Go Hawks!
Friday May 6, 4-9 p.m.
Looking for one last hoorah before finals? If so, Hawkapalooza is the place to be! On Friday May 6, Hawk Hill Productions is bringing a day of excitement and fun to Hawk Hill to close out the semester. Hawkapalooza will take place in the Campion Lot as well as on the Villiger Lawn from 4 to 9 p.m. Come out and enjoy a night of all things Philly!