In a tale of three stories, "Moonlight" is a coming of age film that shows how a young black boy, Chiron, lives his life in the rough Miami town of Liberty City. The film is directed by Barry Jenkins who puts Tarell Alvin McCraney's unpublished semi-autobiographical play, In the Moonlight Black Boys Look Blue, onto the big screen. Throughout the film you see Chiron struggle with numerous issues that impact his everyday life. You watch the physical and emotional abuse that he deals with daily. The film explores the difficulties that Chiron has with understanding his sexuality and finding his own identity in this world. It is a journey with him as he tries to understand and find his manhood in a world that seems against him.
"Moonlight" is broken up into three separate, but equally important chapters. The first chapter is titled Little; this is the nickname given to Chiron by the other children in the community. The film begins with something we see for the first time, but it does not seem new to Chiron. He is running from a group of bullies before finding a crack house to hide in. At this point Chiron meets Juan, a local drug dealer played by "Green Book" star Mahershala Ali, who brings him back to his home. He stays with Juan and his wife Teresa for the night before returning home to his upset mother.
Juan plays a short, yet major, role in Chiron's early life. He becomes the father figure he does not have at home. Juan shows he truly cares for Chiron, he treats him like he is his own son. He teaches the young boy to swim in one of the more popular scenes of the movie; he also tries to advise Chiron to take his own path in life. Juan and Chiron's mother, Paula, argue over the way she raised her son. She tells Juan she knows why her son is constantly bullied by others. She says she knows "by the way he walks".
The second chapter of his story is simply titled Chiron. We fast forward to Chiron now as a teenager. Despite being older, the same issues are still relevant in his life. The new problem that has found his way into Chiron's life in the newest bully, Terrell. Terrell verbally abuses Chiron talking about his mother and calling him by his old nickname, Little. A childhood friend, Kevin, rekindles his friendship with Chiron in his teenage years. Since childhood Kevin has treated Chiron like a friend, something Chiron doesn't have at this point. One night after an altercation with Terrell and his mother, Chiron goes to the beach to visit Kevin. After smoking on the beach, the two have an interaction that neither expected that night.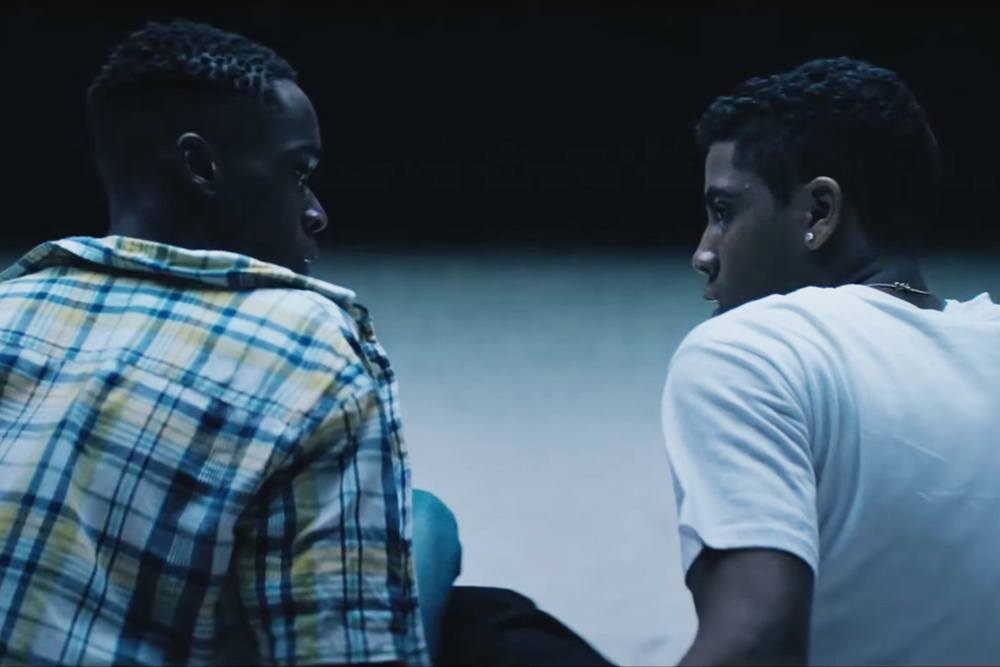 The third and final chapter of "Moonlight" is titled Black, the new nickname Chiron has gone by since leaving Miami. This is also what Kevin used to call him when they were teenagers. As an adult Chiron is living a very different life. He has undergone a complete transformation. He's gone from a small and quiet kid who has been bullied his own life, to a powerful drug dealer in Atlanta. His mother Paula frequently calls her son asking him to visit her at a treatment center. Chiron also receives a phone call from his old friend, Kevin, who invites him to visit him in Miami. He goes to the diner where Kevin works and the two talk over dinner. Chiron offers to take Kevin home after work, where the two have an intimate conversation about their past.
The film ends with a young Chiron on the beach where he once went to with Juan. The ending scene explains McCraney's work, in the moonlight black boys look blue.
"Moonlight" offers a perspective into a life that is not seen on the big screen very often. We follow Chiron through three stages of his life. We see him go from Little, the boy who was tortured by other kids, into Black, a drug dealing kingpin. By the end of the film Chiron looks like what everyone expects a man to be like, he's hard. He's visibly bigger, wealthier, and someone people fear. However, he is still Little on the inside. He is still the young boy you rooted for in the beginning of the film when nothing went his way. Chiron has issues that are stereotypical with the culture. He lives in a poor area, no father figure, and his mother has her own demons. His biggest issue is his identity. He is constantly picked on for being "sweet" or being "soft". The other boys knew what was different about Chiron. "Moonlight" reflects what it is like to be a gay black man in society. That life can be rough, but it is very real.